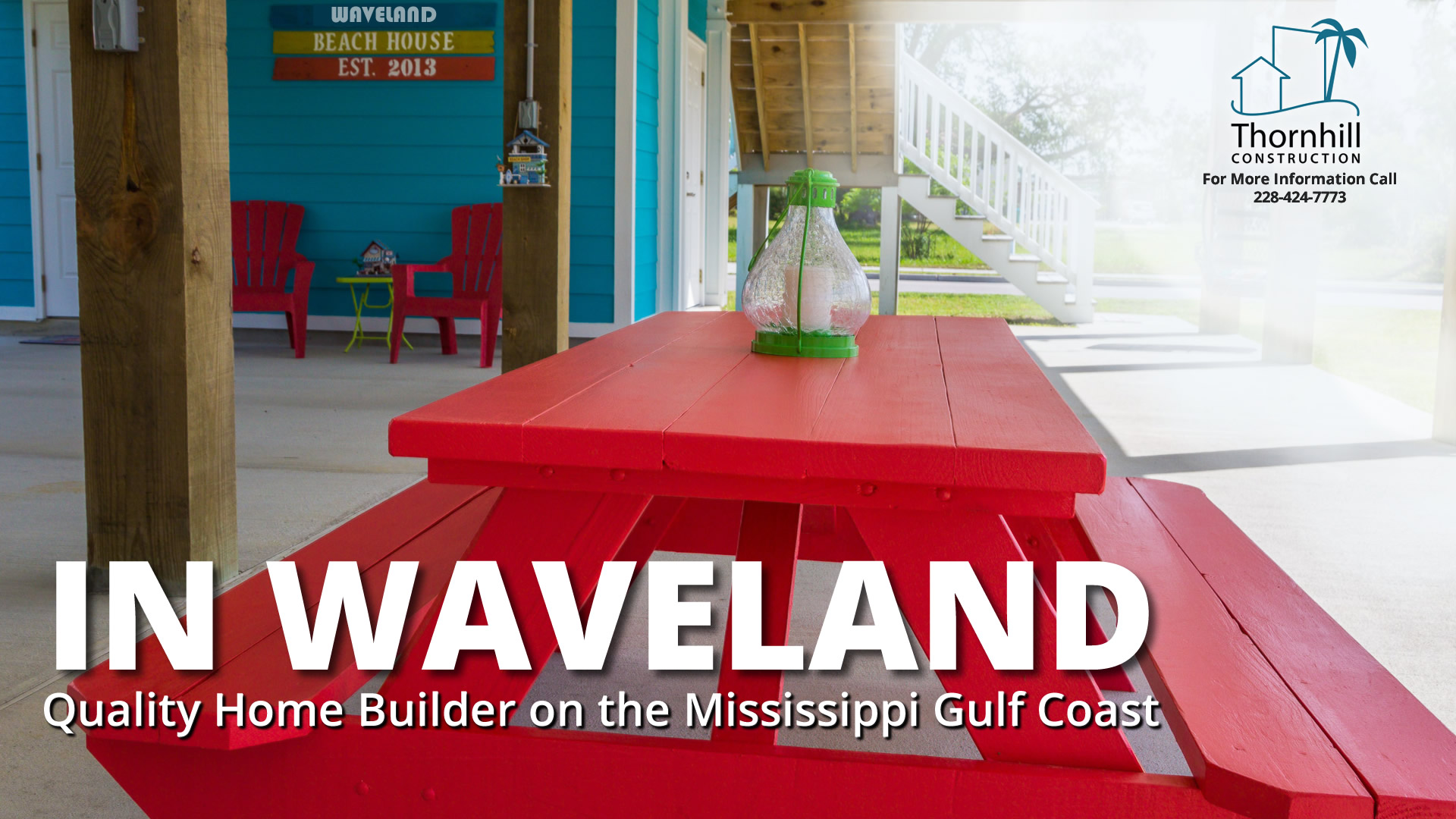 building a dream in Waveland
The coast of Mississippi is a special place on the Gulf of Mexico filled with small little beach towns like Waveland. Hanging out on the beach and enjoy mild winters are part of the allure. Friendly people and daily walks on the beach are all part of the dream. If you are looking to build a house in or around Waveland, let us help you start making memories. We understand if the coast is calling you, after all, it called us to love this place called home. Thornhill Construction can help you make your dream a reality. They have been building houses along the coast of Mississippi and on riverfront lots for many years. Strong high-quality waterfront homes that meet the homeowner's needs and desires for either a vacation weekend getaway or even a full-time residence.
Building on the coast has many special features and requirements that a reliable builder can navigate for you. If you are building your home in the immediate area of the river, you will most likely need to build your home above the current floodplain. This can vary depending on location and also by the municipality.


gulf breezes and sun-filled afternoons
Those are the requirements for building on the coast, but it is the style and coastal river feel that make your dreams come true. Thornhill Construction is steeped in clean coastal styles with color palettes that call the warm Gulf Breezes into your home. Riverfront homes having the amazing water views paired with the scenic views of boaters, wildlife, and weather. Over the past decade, we have had great success in creating amazing houses that become homes for people to bring their families and raise their children along the coast of Mississippi. When you choose Thornhill Construction, you can worry more about picking beach chairs and jet skis than you will the construction of your home, we've got you covered. We are a custom home builder that focuses on the little details and the coastal style. Take a look at some of our pictures here to see our style paired with a great coastal feel.
Jason Thornhill, the owner of Thornhill Construction, has a great eye for the look and feel that is Coastal. His cottage collection has become a standard for many homeowners.


enjoy the journey and build your dreams
If this is your first visit to the Mississipi Gulf Coast, we would highly recommend that you visit a few small towns near the water like Bay St. Louis, Waveland or Pass Christian. These cute areas are perfect to stroll the Scenic streets to enjoy the beautiful homes, shops, and restaurants. Enjoy your visit and if for any reason we can help you with choosing and building the home of your dreams, give us a call at 228-424-7773.